Make a Good First Impression During a Job Interview
Career growth is a goal that everyone aspires, everyone sees it as something rewarding and life changing. The reason why professionals really look for ways on how to learn more and improve more on their skills whether it is through online trainings, online classes, short courses, certifications, or even finding the right company that would fit their needs. However, because of the demand in the workplace, and the competitiveness of everyone's profile, it is important to get an outstanding impression whenever you talk to a possible employer.
As we continue to look for talented professionals in different fields for different industries, our team would like to share these 3 of some of the things that you need to keep in mind whenever you are aiming to give that good impression in an interview.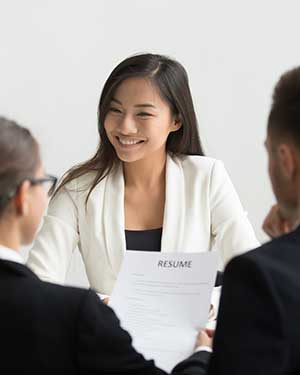 1. Not doing your research
A lot of candidates tend to forget that skills are not just the main focus of the recruiter it is also important for them to see that you are knowledgeable with the business and on what are their values as well as their goals. Knowing a lot about the company will simply impress the interviewer, and will also give you the idea if their culture or values fits to what you are looking for. This will help you determine if you can see yourself growing in this company or if it is just simply another job that will fill in your anxiety and worries of not having one.
2. Tone of Confidence
Your knowledge in what you do is not just the key to impress your target employer. Imagine talking to someone without any passion or any sign of positive emotion at all as if they are just merely answering your questions. You lose interest right? It's the same thing as doing an interview, your confidence and belief in what you do as well as your body language (if you are doing a face to face interview) matters. Your tone of confidence shows that you are really into what you do, and you are proactive and you accept the challenge in hitting the targets of this job.
3. Too much commitment
We are not saying that you should not say that you can do it, but too much is not good too. Imagine if a delivery man from your favorite online shop messaged you that he will be arriving within the day, and he didn't. That's really disappointing right? Remember that recruiters look for specific competencies that a person has, to deliver the job. If you are not that familiar just confidently say your experience and that you are willing to learn more. This is much more appreciated than getting hired, and not be able to deliver. Remember that you are being evaluated and this might go downward spiral for you too. Also, if got the job, and they asked, when can you complete the requirements, you can honestly say your timeline it goes down to communication and negotiation on how you will be able to complete them before you onboard. The Human Resources team will surely be glad to assist you with your needs and concerns, so keep that in mind and worry less.
There are still a lot of thigs that you can work on for career growth aside from looking for a new employer. There are a lot of books that could answer your questions and would fill the knowledge that you need, or even free seminars, classes or forums online that you can join and interact with different professionals that could be your inspiration or mentors too. Remember that it will really start from you, your commitment in what you do, your passion, and your hard work will result to greater heights. Always aim for greatness and always make sure to move forward.
These are the Questions YOU Should Ask Your Job Interviewer

January 25, 2023

Read More

5 JOB HUNTING TIPS TO GET YOUR DREAM ROLE IN 2023

January 16, 2023

Read More

Importance of building a Professional Social Media Presence

November 29, 2022

Read More

How Gen Zs are Changing Corporate Life Forever

October 17, 2022

Read More

5 Ways to Engage a Non-Team Player

September 20, 2022

Read More

What is "Quiet Quitting" and How Can You Cope With It?

September 15, 2022

Read More

5 Basic Tips to Adapt to Your New Job

August 23, 2022

Read More

REASONS WHY GOOD EMPLOYEES QUIT (And How to Avoid Them)

August 12, 2022

Read More

Micromanaging Your Employees

May 23, 2022

Read More

Working from Home Productivity Tips

April 18, 2022

Read More

PART TIME SUMMER JOBS OF 2022

April 11, 2022

Read More

Make the Recruiter Notice and Hire You!

April 04, 2022

Read More

SHOULD YOU FOLLOW YOUR DREAM CAREER?

March 21, 2022

Read More

ARE YOU ON THE RIGHT CAREER PATH?

March 14, 2022

Read More

ADVANCE YOUR CAREER, BE A TEAM PLAYER!

March 7, 2022

Read More

Make a Good First Impression During a Job Interview

February 21, 2022

Read More

How to be Efficient at Work While Improving Your Lifestyle

February 14, 2022

Read More

A Long Time Working Relationship with Your Next Employer

February 7, 2022

Read More

Top 10 Emerging IT Career Paths That Will Dominate In 2022

by Pamela Chelsea Ortiz
Oct 22, 2021

Read More

These are the 5 most valuable skills to learn in 2022, says futurist—and where to find free online courses

By: Scott Steinberg
Dec 21, 2021

Read More

How to Ace Your Next Interview: Tips and Examples:

By Indeed Editorial Team
October 21, 2021

Read More

4 Tips for Setting and Achieving Career Goals

By: business.com Member
Nov 17, 2021

Read More

How to Apply for a Job in 6 Easy and Effective Steps

By: Indeed Editorial Team
February 23, 2021

Read More

How to Prevent the Return to Offices from Being an Emotional Roller Coaster

By: Liz Fosslien and Mollie West-Duffy
March 18, 2021

Read More

Your Guide to Making Good First Impressions

By: Indeed Editorial Team
August 31, 2021

Read More
© Copyright 2021 Onward Worldwide | All Rights Reserved